Putting a few protective measures in place can significantly improve your home security while on vacation. Knowing your home is safe will give you extra peace of mind and allow you to relax while enjoying your time away.
Here are four powerful ways to improve the security of your home and boost your peace of mind while you are away and the house is empty.
Make Your Home Look Occupied
One of the simplest ways to improve your home security while on vacation is to make your home look occupied.
Set timers on lights, radios and televisions so they'll automatically turn on at different times during the morning and evening. Ensure your grass is freshly cut or (if winter) snow is being shoveled while you are away.
Ask a friend to park their vehicle in your driveway every once in a while to give the impression that you're home when you're not there.
Go to usps.com and put your mail on hold. Ask a neighbor to collect any deliveries that unexpectedly arrive for you. If you still get newspapers delivered, place your subscription on hold.
Install Outdoor Security Lights
A great way to enhance your home security while on vacation is to make sure the burglars cannot use the cover of darkness to break into your house.
Well-placed security lights can remove any shadowy hiding spots, encouraging would-be thieves to move on to an easier target.
Of course, you need to be mindful of how your outdoor light affects nearby homes, but it is usually okay with neighbors to shine a light on your own home doors and windows.
Install a Home CCTV Security Camera System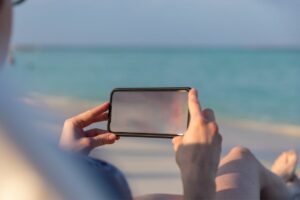 Security lights have an especially good effect when paired with security cameras. Place the cameras in conjunction with your security lights so you can view all your home entry points on your phone from anywhere in the world.
Just like the security lights make your house less of a target, a CCTV security camera system will deter burglars and other pranksters from approaching your home. For this reason, we recommend placing your security cameras in plain sight of your home's entryways, garage door, walkways and first-floor windows. Your local security camera installers can help you find the best locations for optimal security in your home.
Security Yard Signs and Stickers
Finally, if you've invested in a home security camera system, let would-be burglars know about it. Display a yard sign or sticker with a "Smile Your On Camera" that tells them they won't be able to mess with your house with impunity because of your home security camera system.
Breathe Easier Knowing You've Improved Your Home Security While On Vacation
You spend a lot of time and money planning your travels to relax and unwind, so it is worth your time, energy and money to maximize your home security while on vacation.
Taking the powerful combination of steps above to make your home look occupied, well lit and monitored by security cameras will work together to keep your house safe from burglaries, break-ins, trespassing and theft.