Summer is almost here in Southern Colorado, and with that comes open windows and garage doors, vacations, and for us at System Links, a chance to share some home security tips to keep your property protected during this busy – and higher security risk – season.
Protecting your property and your loved ones is a top priority for all of us, no matter the time of year. However, did you know that as the seasons shift, so do the tactics that thieves and vandals use to break in or damage property?
In winter, our focus may be on preventing theft during the holidays, whether by protecting deliveries left on our doorsteps or keeping our inflatable Santa from being stolen from our yards.
But in summer, we may be guilty of letting our guard down a bit while we enjoy more time out of doors. Here are three home security tips you might be overlooking this summer.
Shut and Lock Windows and Doors
Yes, keeping your doors and windows shut and locked is one of the most obvious home security tips out there. However, opening your windows and doors to the fresh Colorado air can be very appealing. Even in the heat of summer, afternoons often bring a breeze that freshens the air and cools down your home.
A word of caution is needed, though. Leaving your home with windows open, especially street-level ones, can be an open invitation to thieves. When going out for errands or work, shut and lock your windows and doors.
If your home has storm doors or sliding glass doors, lock the screen or the door itself, even when you are at home. Unfortunately, home invasions are not unheard of, even in the safest of Southern Colorado neighborhoods. Take steps to protect your home and family by keeping doors and windows locked.
You Might Like: Four Powerful Ways To Improve Home Security While On Vacation
Yard Clean-Up and Maintenance
Keeping your grass trimmed and your yard clean does more than add to your home's curb appeal. Homes with disheveled lawns and bushes may indicate to thieves and vandals that you are not home. If you will be away from home for an extended period, clean your yard up and do some maintenance before you leave.
Keep your fence in good condition to limit access to your home. Whether a chain link fence or wooden plank fence, Colorado weather can deliver a beating to even the highest quality fences. Perform regular fence inspection and maintenance to ensure there are no weak spots and take corrective actions if there are areas that need attention.
In addition, putting yard and garden tools away after use does more than prevent rust and is one of our home security tips that we bet you haven't considered. Tools left outside can be stolen or, worse yet, used to shatter windows and provide access to thieves and vandals. Ensuring your tool shed or garage is shut and locked keeps your precious tools from being used against you.
Clean, Adjust and Maintain Outdoor Lighting and Security Cameras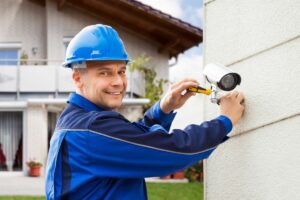 While you are outside cleaning up your yard, be sure to pay some attention to the lighting and security cameras around your home's exterior. The brightest lights cannot shine without light bulbs, and the highest resolution cameras cannot give video footage if their lenses are covered in dirt and cobwebs or are not pointing in the right direction.
Step 1: Clean
Cleaning your outdoor lights and security cameras is not hard and takes nothing more than a soft cotton cloth and some water. Remove away any cobwebs or critter nests that may be interfering with the line of vision of both lighting and cameras. Gently wipe camera lenses and foggy glass panels on lighting using a moist cotton cloth. Do not use harsh chemicals or paper products, especially on security cameras, as fogging and scratches on the camera lens may result.
Step 2: Adjust
Next, look at the video footage coming from your security camera at different times during the day. Is the lighting sufficient overnight to deter a thief? Is the security camera still pointing in the right direction, or have Colorado's high winds shifted the view ever so slightly? By making minor tweaks to the angle of your security cameras or lighting, you will enhance the benefits of each.
Step 3: Maintain
Like any other modern electronic, security camera systems require occasional tune-ups to continue operating at their very best. To keep your security cameras doing their job, do visual inspections of any exposed wires, mounts, and the outside of the camera itself. Make a note of any areas of concern and contact a trusted Colorado Springs CCTV service and maintenance company to make repairs and replace outdated components. h/protect-your-home-security-camera-from-hackers
Another maintenance task to protect your home security camera from hackers is to ensure you have the latest firmware downloaded and installed and regularly change your passwords.
Home Security Tips to Keep You Safe This Summer
Hopefully, along with planning your summer cookouts, the above home security tips have given you food for thought too. Thoughts of security, that is. Have a wonderful and safe Colorado Springs summer!
Speak with a CCTV installation and service technician today to schedule a no-obligation, on-site security evaluation and free quote.