If you take identity protection and your privacy seriously, you need to take steps to protect your home security cameras from hackers. Home security cameras can be an excellent way to keep an eye on your home while away or even capture moments that you'd usually miss. However, these devices aren't necessarily secure. There are numerous ways an attacker could compromise your security camera and cause you a great deal of harm. This article surveys the top seven ways to protect your home security camera from hackers. We'll explore the risks posed by hackers to your camera and practices to safeguard against these risks.
Why Home Security Cameras Are Vulnerable
We have all seen movies in which expert hackers can access the security system of a museum, vault, or other high-visibility building. Unfortunately, however, this scenario is not limited to the silver screen.
The fact that a home security camera is linked to your home network makes it a prime target for hackers seeking to steal your identity and violate your privacy. Home security cameras are often paired with other devices connected to your home network, such as a hub or recorder, to stream footage to an online account. This means that an attacker could potentially access your other devices on the network and cause untold havoc in your life. How can you protect your home security camera from hackers?
Change Your Password
You should change your password on all of your devices that connect to your home network. This includes your router, smart devices, and home security camera. You can use the same password on all of these devices, so make sure you choose something complex and unique. Cyber-security experts suggest using a randomized password generator to ensure that you do not unwittingly set passwords that are easy to hack. One we particularly like is from Avast. With their password generator tool, you can adjust the length and required characters. Because the passwords are generated on your local system and not over the internet, they can help protect your home security camera from hackers.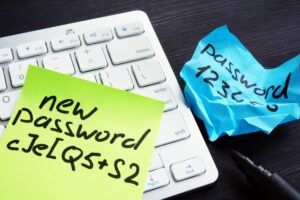 Install The Latest Firmware
Just as hackers are constantly coming up with ways to breach security measures, technology providers are constantly coming up with ways to block their efforts. The way they accomplish this is through firmware updates.
Modern security camera systems can have firmware pushed to the device as they are available, or you can manually download and install the updates. If you choose the second option, be sure to check for new firmware often. This is especially important if you use the device to connect to a home automation system. If an attacker were to breach your camera, this would allow them to access other connected devices on your network, such as your home automation hub.
Encrypt Your Camera
If you use a cloud-based storage service for your video feed, you should encrypt your camera. This will prevent your camera footage from being visible to anyone with access to the internet. An experienced Colorado Springs home security camera installer can provide you with options for the best way to encrypt your camera system and provide suggestions for the best places to install home security cameras.
Don't Point Cameras at Private Areas
When setting up your home security camera, don't point your cameras at private areas like bedrooms and bathrooms. Avoiding these areas will reduce the likelihood of a hacker invading the more intimate aspects of your home privacy. Point cameras at entryways and other public places. This goes for outside and inside security cameras.
You Might Like: 3 Summer Home Security Tips You May Be Overlooking
Use Two-Factor Authentication
If you use two-factor authentication (2FA) on any online account, you should use it on your home security camera. Doing so will add an extra layer of security to protect your home security camera from hackers. 2FA requires you to enter a code along with your password when logging in from a new device. This step makes it harder for hackers to steal your password and login details, as they would have to have your password and the 2FA code to access your account. 2FA is enabled by default for many cloud-based home security cameras, but you can also set it up on your own home security camera.
Use a Virtual Private Network (VPN)
An effective way to protect your home security camera from hackers is by using a Virtual Private Network (VPN). A VPN routes all your internet traffic through a secure server, making it more difficult for an attacker to intercept your home security camera feed. You can use a free VPN service like TunnelBear or pay for a premium VPN service like ExpressVPN.
Conclusion
You have already shown that you take your home and family's safety, security, and privacy seriously by installing a security camera system. But while these cameras are an invaluable asset to have, you must also take proper precautions to protect your home security camera from hackers by applying the tips in this article.
Talk to an experienced, locally-owned and family-operated home security camera installer for more information and a free quote to protect your most valuable asset – your family.