As Colorado Springs' experts in security camera and access control sales and installation, we receive many inquiries for access control systems for property managers. This request is easy to understand. When you manage properties for a living, keeping those properties safe, secure and well-maintained is your livelihood.
Below we discuss how an access control system, installed and serviced by a professional security system contractor, can make the job easier for Colorado Springs property managers.
Keep Your Properties Safe From Theft and Vandalism
One of the major benefits of access control systems for property managers is the protection they provide from theft and vandalism.
Thousands of Colorado Springs properties are the target of vandalism and break-ins each year. These incidents can take a toll on your tenants, maintenance costs, and most especially on your bottom line. Break-ins and vandalism can also create a risk of liability from tenants and guests who sustain damages.
Modern access control systems make it easy for property managers to limit access to certain areas to specific individuals. The system will let you know when unauthorized individuals attempt to enter those areas. When you have a system that identifies who's been in your building, along with installing security camera systems that record activity in and around your properties, preventing objects and sensitive materials from being tagged, defaced, or stolen becomes much easier.
Related: The Benefits Of Modern Access Control Systems
Streamline Property Management Operations
Property management is a constant balancing act between keeping each of your tenants happy while at the same time managing maintenance, repairs and budgets.
How would your management company benefit from the ability to track how much time your maintenance crew spends on each property, which properties you spend the most time on, and which repairs take the longest?
Access control systems for property managers will help you manage your assets more efficiently, and identify opportunities for cost savings.
In addition, with an access control system, property managers can register tenants, managers and guests with the click of a button. You'll be able to keep track of who's been in your properties and easily assign permissions, making it easier to book appointments and manage repairs.
These capabilities help you streamline your operations, making it easier to run your business.
Securely Track Access
One of the benefits of access control systems for property managers is that they can be used to track visitors. This makes it easier to know who's been to your properties and when.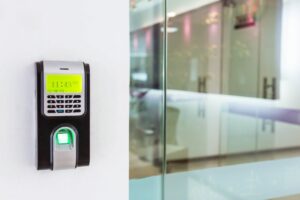 Most modern access control systems also let you create user profiles, including photos and biographical information. This allows you to track who is on your properties and identify potential visitors from the start. Imagine, never again worrying about tenants giving out their keys, keycards or fobs to friends and relatives. The only ones allowed on your property will be those with proper access credentials and their guests.
Many systems, like those from VizPin, allow access through Bluetooth. This allows the tenants easy access while giving property managers complete control over their properties at the touch of a button.
Further Reading: 5 Things You Need To Know About Vizpin Access Control Systems
Access Control Systems Keep Your Tenants Happy
The goal of every property manager, whether residential or commercial, is to have happy long-term tenants. And one of the best ways to ensure quality tenants stay for years to come is to provide peace of mind through access control systems.
In apartment buildings, the safety and security of tenants is of prime importance. By ensuring that entrances and exits, as well as common areas like the laundry, exercise room and pool areas, are accessible only by tenants and authorized individuals, you are giving your tenants peace of mind that they are safe in these areas. And when a tenant leaves, you can immediately turn off all access to your property amenities.
For commercial tenants, the added protection from inventory loss provided by means of access control may be the option that sets your property apart from your competitors.
Recognize the Benefits of an Access Control System for Property Managers
This article has just touched on just a few of the many benefits of access control systems for property managers.
By allowing only authorized individuals to enter buildings or specific areas, property managers can reduce the risk of vandalism and break-ins.  Access control systems can help manage your properties more efficiently, streamlining operations. And best of all, property managers who install access control systems at their properties boost tenant retention. Tenants who feel safe and secure are happier and stay longer.
If you are a Colorado Springs property manager interested in learning more about how access control systems can benefit your bottom line, contact System Links today for a free on-site assessment and quote.