Are you responsible for visitor management in multifamily properties? Between scheduling move-ins and move-outs, maintenance and repairs, and keeping your current tenants happy, chances are you already have a full plate. But what if we were to tell you that you can install an access control system that is easy to use (for both you and your residents), secure, and does away with the time and expense of fobs and keycards?
At SystemLinks Colorado, we install access control systems for visitor management in multifamily properties across Southern Colorado. Below are the top five reasons you need to install or upgrade your system today:
Unauthorized Rentals
The world of rental properties is evolving every day, and with that evolution, property managers' concerns are also increasing. Apartment managers are already responsible for keeping additional roommates not listed on the lease agreement from moving in lock-stock-and-barrel. But as the cost of living rises, more and more people are choosing to supplement their income by subletting their living space as AirBnB or VRBO short-term rentals.
Including a clause in your lease agreement preventing sub-leasing is a good starting point, and both AirBnB and VRBO have owner requirements for rentals through their sites. But a determined resident may look for ways around this legality or ignore it entirely.
However, with an access control system that utilizes smartphone technology, this problem is effectively eliminated. The registered resident cannot physically pass keys, fobs or key cards to their "guest."
Did You Know? The unethical sharing of keys, fobs and keycards has prompted security innovators at VizPin to create their Residential Fraud Alert System. This revolutionary system alerts property managers if residents are exchanging smart credentials back and forth, making visitor management in multifamily properties easier than ever. Contact System Links today to learn more about this and other access control system installations.
No More Fobs and Cards
Most apartment managers who contact us for access control solutions have one thing in common. They are so done dealing with fobs and keycards. Why? For two simple reasons. The first is discussed above, and the second has to do with the very nature of the property management industry.
Few managers of multifamily properties are blessed with long-term tenants who never lose their keys. Instead of spending time issuing new cards for new tenants, replacing lost cards, or chasing down keycards and fobs as tenants leave, savvy property managers are turning to smartphone-based access control to save time, energy, and money.
Amenity Access Control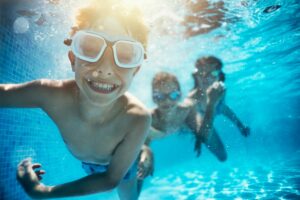 One of the biggest challenges for visitor management in multifamily properties is controlling access to property amenities, such as the pool, exercise room, laundry room, and clubhouse. Tenants who pay for these amenities rightfully expect access to these areas to be limited to those who live in the community.
When credentials can be easily shared, like cards, fobs or keypad codes, the risk of unauthorized individuals using facilities they have no right to access increases. But, when traditional access control is upgraded to more innovative tech, sharing of information is less likely to occur – most people are unwilling to part with their cell phones at work so a friend can use their pool.
Your Maintenance Team Will Thank You
Remember the old saying, "if Mama ain't happy, ain't nobody happy?" Managers of multifamily properties know that keeping their maintenance crews happy will keep their tenants happy. A maintenance crew may not be the primary decision-makers, but they influence everything about your property's online presence.
Keep these professionals happy by eliminating locks outs, changing locks after tenants leave, and managing vendors coming in for repairs or updates. Rather than being interrupted by the tenant in apartment 3B getting locked out of the laundry again, they can stay focused on other essential tasks.
Visitor Management in Multifamily Properties Can Be Easy
Are you frustrated by visitor management in multifamily properties but are hesitant to consider installing or upgrading your access control system because you believe it will be too much of a headache? Then you will love our final reason to take the plunge: System Links makes the process easy!
First, call us to schedule your free on-site consultation and security assessment. Multifamily properties are as unique as the families who live there, and our knowledgeable team will meet with you to discuss your specific property's needs.
Second, we send you a reliable, free quote that includes all labor and equipment to secure your property.
Third, schedule your installation. Our experienced team of security camera installers and access control professionals will take care of the rest. If you need anything after the installation, we will be here.
That is it. The solution you need for visitor management in multifamily properties – in three easy steps from System Links.