One of the many benefits of security camera installation is the ability to use security video as legal evidence in El Paso County courts. How can this tool help your Southern Colorado business in the unfortunate event of a crime or accident occurring on your premises?
Security cameras are an indispensable tool for businesses of all sizes, helping them monitor their properties and keep tabs on employees and guests. Security cameras have become commonplace in almost every industry. From pharmacies to hotels and schools, businesses big and small have found ways to integrate security cameras into their everyday operations.
In addition to keeping establishments safer by letting owners keep an eye on their properties from afar, security cameras function as legal evidence when they capture legally significant events, known as "recordings" or "videotapes," depending on the type of camera used. The recordings can be used in court to prove something happened or didn't happen at a specific time and place.
What is Security Video Evidence?
The recorded images and sound recordings from security cameras and other surveillance equipment constitute security video as legal evidence.
Security cameras are a vital part of every business's security plan, along with access control systems. Security video is vital to preventing employee theft, protecting against false accusations, and showing what happened during an incident. Video footage is more reliable than witnesses and can capture information individuals may overlook.
Security video is also a great way to identify criminals and gather evidence against them. The cameras can record 24/7, making it easier to identify people and what they are doing.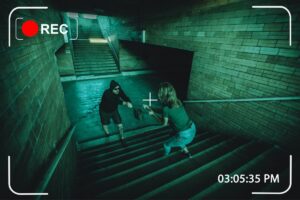 Why is Security Video Important as Legal Evidence?
The importance of security video as legal evidence cannot be understated. Security video can be used to prove that an event happened or didn't happen and can often be used instead of, in addition to, or to contradict eyewitness testimony. For instance, security camera footage can be used to prove that a person was at a specific location at a specific date and time or that someone was driving a car.
Many modern security cameras boast incredible video quality, and law enforcement and prosecutors can zoom in and focus on specific objects, even acting as a scale to measure distances. In some cases, security video can even retroactively track suspects' movements. When an accident or crime occurs, investigators may be able to see the responsible party on security video and track the person to their home or other important location.
Why Security Cameras Used for Monitoring Only Are Not Admissible
Security cameras that do not record security video are observation tools only. These cameras help spot suspicious behavior and alert law enforcement when the behavior occurs and are especially useful for monitoring entrances, exits, parking lots, or other areas where security is critical. However, because these cameras do not record events, your business cannot use the security video as legal evidence.
Related Reading: Signs It's Time to Replace Your Business Security Camera System 
Security Cameras with Recording Capability
As opposed to observation-only cameras, security cameras with recording capabilities are both observation tools to spot suspicious behavior before an event escalates and serve as legal evidence after an event occurs.
Professional Installation Ensures Authenticity of Security Video as Legal Evidence
In the state of Colorado, security video can serve as legal evidence as long as the footage complies with evidentiary requirements set by Colorado law. Put simply, there must be sufficient proof that the visual evidence on the video is actually from the date, time and location in question.
The best way to ensure that your security cameras are pointing in the right direction, with the correct date and time, is to hire a professional security camera installer. These professionals will ensure that the security cameras are properly installed and that the digital video recorder is working correctly and has the storage capacity necessary for your security needs. In addition, the best installers also make themselves available for maintenance, repairs and questions after installation.
System Links of Colorado is just such a security camera installation company. If you are concerned with using security video as legal evidence, trust the locally and family-owned company with 20 years of experience in CCTV and access control solutions.
Speak with System Links today to schedule your free, on-site consultation.