A question all Southern Colorado businesses have to contemplate sooner or later is if the time has come to replace your business security camera system.  In fact, if your current security system is still adequate for your business or facility, then you are part of the lucky minority. The reality is that most businesses or facilities will eventually require some level of upgrade to meet their modern surveillance needs.
You may place a great deal of trust in your security systems, and it's important to have your security camera system serviced and updated regularly for maximum effectiveness and protection. 
If your system was installed more than 5 years ago, you may want to consider replacing the hardware entirely, since many systems are by this point showing their age, with issues such as freezing, crashing programs, or slow operation. 
Technical issues could also include memory leaks that slowly degrade performance or even render the software and hardware ineffective entirely. 
After countless hours and many dollars spent ensuring your business is as safe as possible, you don't want your surveillance system to fail, leaving your establishment vulnerable. 
As the global video surveillance market continues to grow, new advancements in security camera systems can mean more peace of mind for businesses like yours.
Many commercial security systems are installed in Southern Colorado as a preventative measure against theft and criminal activity. Because surveillance cameras are typically checked every day, it can be hard to know when you should replace them. 
In this guide, we'll go over some of the most common signs that it's time to replace your business security camera system. 
Are Your Cameras Working?
If you are like many Colorado Springs businesses, you probably are not checking your security cameras regularly to ensure they are still working. Something could be wrong with your surveillance system, and you may not know until it's too late. Unless, of course, you conduct regular maintenance. 
Don't just assume your cameras are working, double check your system for possible failures. If you find that something is not working properly, you can replace your business security camera system instead of missing footage when you need it most. 
Are You Seeing What You Need to See?
There are many reasons why an older security system might not be working for you anymore. If your current security cameras are only monitoring a single area and the view is limited, it may be time to replace your business security camera system. 
Modern security cameras should have wide ranges of view, allowing you to capture important moments as they happen. If your surveillance is not providing an adequate view of your business, it may be time to replace your business security camera system or add additional cameras to see more of your property.
Is Your Camera High Resolution?
Camera quality is imperative for efficient property surveillance. The footage must be clear and of high definition in order to capture the important details, such as a license plate number or a face. 
Low-quality camera footage makes it difficult to identify criminals. This can be a concern in any area with a high crime rate, but even in Colorado Springs, businesses face a risk of theft. Having access to high-quality surveillance footage can help police identify suspects faster and prevent future criminal activity from occurring.
Are Your Cameras Protected from the Weather?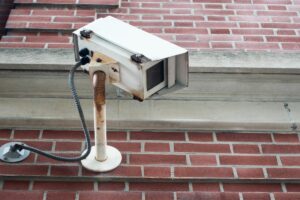 If you're using cameras to monitor the outside of your business and provide parking lot safety, wind, rain, and snow can impact their life expectancy. 
It may be time to replace your business security camera system if your current surveillance units have been affected by the elements. Even if your cameras seem to be working, damage over time could lead to a failure when you least expect it. 
If you're located in Colorado Springs, snow, rain, hail and even wind can take a heavy toll on older security cameras. Newer models feature better weatherproofing.
Replace Your Business Security Camera System in Colorado Springs
When looking for a security camera installer in Colorado Springs, you can always count on System Links Colorado for quality service. We are a locally owned and family-managed company, and our priority is providing you with excellent customer service. 
Our goal is to transform your home or business into a secure environment, safeguarding you, your family, and all of your valuables at an affordable price. 
Whether you are looking for security camera installation for your business protection for the first time, are interested in CCTV service agreements for your existing system, or you want to replace your business security camera system, System Links Colorado can help. 
We have been in the camera integration industry for over 20 years, and have the experience that's essential to creating professional and lasting solutions for your security needs. Contact us today for a free quote, and learn more about how we can be your partner in home security — schedule your free site survey today!