Many Colorado Springs residents have older parents, aunts, uncles, or other relatives and friends. As news reports of elder abuse become more frequent, they are concerned with keeping these elderly loved ones safe in their homes. 
The sad fact is that while we love and respect the seniors in our lives, many do not. Crimes against the elderly are becoming more and more frequent, whether in the form of medicare scams and other elder financial abuse, theft, or physical abuse. Unfortunately, criminals are more likely to target those over age 65, who may be more easily confused or are less likely to fend off an attack or escape a dangerous situation. For your elderly loved ones, home security can be critical. 
The good news is that you can take steps to ensure your elderly loved ones' security. In this guide, we'll take a look at some of the most effective ways to keep your elderly loved ones safe using today's best home security technologies. 
Install Surveillance Cameras on the Property
A surveillance system is an excellent way to keep your elderly loved ones safe while in their homes. With the right video tools, you can determine whether there are any security concerns and alert authorities when necessary.
A security camera will record important details, such as an individual's facial features and physical attributes. Even if you don't catch an intrusion at the time it happens, you can use video footage of an event for later review or as evidence for filing charges against a perpetrator.
Ideally, when you have surveillance cameras installed, they should be visible from windows or doors when possible. This is a simple way to deter criminals from trying to break in. Knowing that homeowners are recording their actions can be an effective crime deterrent.
As an added bonus, you can rest assured that your loved ones are safe with video surveillance for caregivers.
Related: Best Places To Install Home Security Cameras
Fence the Property and Limit Points of Entry
A simple way to keep elderly loved ones safe is by installing a well-built and quality fence. ​​If there is an intruder attempting to enter the home, the longer it takes for them to get inside, the more time you have to react before the situation gets dangerous. This is especially important when you want to protect seniors, who may not have the physical ability to fend off an intruder.
Privacy fencing, in particular, is one of the most effective protective features you can add to a backyard. By limiting access to doors and windows, you can help to keep your elderly loved one safe.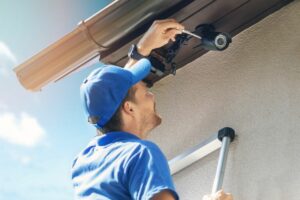 Use Motion Activated Lights
Motion-activated lights are gaining popularity for home security and can be a great supplement to security cameras. These lights can be set to turn on when someone approaches the home and turn off once they've left the vicinity. This can help protect your elderly loved ones from criminals looking for opportunities to strike homes with low visibility. 
Motion-activated lights work along with security cameras to make identifying faces and license plates easier. 
Set Up Home Automation
Having a home automation system that will automatically turn on systems at a specific time every day or when someone leaves the house is another excellent security feature. These systems can also send a notification if there's smoke or carbon monoxide detected in the house. 
If you live far away from your elderly loved one, this can give you peace of mind that they are safe and sound.
Use a Smart Doorbell
A doorbell camera is another security device that can give you confidence that your elderly loved ones are safe against unwelcome guests. Doorbell cameras allow family members to check on the well-being of their loved ones by receiving notifications when doors are approached, opened, or unlocked. 
Doorbell cameras allow you to see who is at the front door via your smartphone or computer. Most models provide two-way audio, so you can communicate with visitors before you open the door. Some models even feature facial recognition software, so seniors know who is at the door before they decide to answer it.
Install an Access Control System
For the ultimate security measure for your elderly loved ones, consider installing an access control system in their home. An access control system aims to provide effective and convenient access for authorized persons while restricting access for unauthorized people. Access control systems can be installed in private homes and in independent and assisted living facilities to ensure the safety of vulnerable seniors. 
System Links: Keeping Southern Colorado Families Safe
At System Links Colorado, we can help you and your family choose the right security features for your elderly loved one's home. We offer complete installation and maintenance of security cameras and access control systems, keeping your elderly loved ones safe and giving you and them greater peace of mind.
We serve Colorado Springs and the surrounding areas. To learn more about our comprehensive solutions for home security, contact us for a free quote.
More From Our People And Property Protection Essentials Blog:
Installing Costco Security Cameras – What You Need To Know
5 Tips For Security For Airbnb Hosts