When you think of safety measures needed for Airbnb rentals, chances are you are thinking of the safety of guests and not of security for Airbnb hosts. If you are considering opening up your Colorado Springs home as an Airbnb, there are precautions you can take to secure your home and property. 
It may appear to be a simple and linear path to profit, but Airbnb hosts are always at risk of guests destroying their place or, worse, stealing from them. Airbnb does provide stipulations and protections in their hosting agreement to protect hosts, but many hosts find that being reimbursed for damages or theft can be a struggle. 
As traveling resumes worldwide and people are eager to see new sights, demand for Airbnb rentals is increasing steadily. If you've joined the ranks of Airbnb hosts or are starting to think about it, make sure you place safety and security at the top of your priority list.
Note: While we are specifically referring to Airbnb in this article, the same principles apply to all hosts of short-term rental properties, no matter which service you choose to employ. For specific information on security measures available to hosts, please see your hosting agreement.
Security For Airbnb Hosts
1. Smart Doorbells
Smart inventions have revolutionized the safety industry and are an essential part of security for Airbnb hosts. Smart doorbells come equipped with a clear, detail-catching camera and the ability to speak through a small speaker on the device. 
The speaker relays your voice at an appropriate volume and with great clarity, making it possible for you to communicate with whoever's on your doorstep while being nowhere near your home.
Smart doorbells enable you to have visual confirmation of the identity of your guest, as well as any extra people that may enter the residence. The HD video that is accessible from your phone will also grant you the opportunity to monitor the activity at your rental. 
For instance, if you explicitly stated no parties and see twenty people entering your Airbnb rental, a camera at the door will provide you with all of the proof you need to penalize the guest.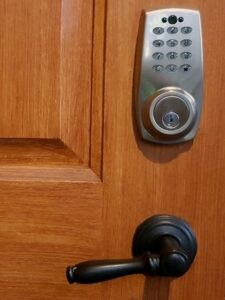 2. Smart Locks
This modern technology is also referred to as keyless entry. Instead of making a second copy of your key and entrusting it to your guest, you can effortlessly change the passcode from your phone. 
This approach to access control means that each time a guest books your Airbnb, you can give them their own passcode for the duration of their stay. After they leave, simply reset the smart lock and change the passcode again. 
With access control measures like keyless entry, you won't have to worry about anyone forgetting to leave the key behind, making a copy, or taking time out of your day to greet the guest and provide them with a key.
3. Security Cameras
Airbnb recognizes the necessity of security cameras in an attempt to show that security for Airbnb hosts is taken into equal consideration as that of guests. 
Everywhere outside the home, as well as living room areas, kitchens, and any other common spaces are fair game for hosts to place security cameras. However, all such surveillance measures are required to be detailed in the listing.
Cameras in bedrooms and bathrooms, however, are a major intrusion of the privacy of Airbnb guests, and Airbnb will take claims of host misconduct very seriously.  
Understandably, privacy must be respected and valued above all else. Even so, that shouldn't deter you from using security cameras in the areas they are allowed in your Colorado Springs Airbnb rental. Break-ins between guests and destruction of property are two expensive, draining issues you want to avoid.
4. Security Sensors 
A main component of security for Airbnb hosts is ensuring guests stay in designated areas. If you have multiple guests or are sharing a part of the home you live in with a guest, the last thing you want is them wandering through prohibited areas.
Whether you have a specific room to house your personal items while renting out your home, an unfinished room, or are limiting access to the garage, security sensors and locks can provide peace of mind that your valuables and privacy stay intact. Motion-activated alarms will send a push notification directly to your phone if they are triggered, allowing you to take action in real-time. 
Sound sensors are another powerful tool that can be used to establish security for Airbnb hosts. These sensors do not eavesdrop on guests' conversations or act as a recording device, but instead alert the host to inappropriately loud noises, such as the parties mentioned earlier. 
5. Access Control Systems
Security for Airbnb hosts is serious business, and access control systems encompass a variety of features that make hosts feel secure. Intercom functionality, immediate alerts, and full control over all of your security devices via any device connected to the internet are all features of a complete access control system. 
System Links Cares About Security For Airbnb Hosts
At System Links, we know all about running a local, family-owned business. Whether hosting an Airbnb is a side-hustle or a main source of income for you, the fact is that you are opening your Colorado Springs home to strangers. Airbnb hosts can fall victim to theft, property destruction, or guests who don't follow the rules. Contact us today to discuss options for your Airbnb rental's security and receive a free quote.
More From Our People And Property Protection Essentials Blog:
Best Places To Install Home Security Cameras
Installing Costco Security Cameras – What You Need To Know