In times past, the use of thermal imaging cameras for access control might have seemed like something straight from the latest Hollywood spy flick. But in today's modern world, anyone can utilize this technology to increase COVID screening, security, and access control at their business. Particularly since the onslaught of COVID-19, thermal cameras are more in need than ever before, since the presence of a fever is one of the most common symptoms of the virus. But how do these cameras work and what kinds of Southern Colorado businesses can especially benefit from thermal imaging cameras for access control? 
How Do Thermal Imaging Cameras Work?
While most people believe in the value of security cameras, many don't realize the powerful benefits of thermal imaging cameras for access control systems. 
Thermal imaging cameras are cameras that utilize contrasting temperatures to clearly define objects. These cameras work by using the process of converting infrared radiation (heat) into distinct images that show the spatial distribution of temperature. 
In plain speak, they detect and depict living creatures by the heat emitting from their body. With this technology, the cameras can differentiate between high-level and low-level threats, reducing the wasted time and costs of false alarms. (More on that below.) 
While security may be the main feature of thermal camera access control systems, there are other innovative uses for them as well. 
As mentioned above, the appearance of COVID-19 in Southern Colorado has caused many businesses to re-evaluate how access is given to clients, customers, and employees. The latest in thermal camera technology allows businesses to protect themselves in ways that could only be imagined in years past. (More below about a thermal camera facial recognition terminal that we love at System Links.)
For instance, some thermal imaging cameras do not reflect exact facial features or show people in the way that we see them in everyday life. This protection of privacy gives thermal cameras the potential to be used in the healthcare industry, schools, and other organizations that are required to balance security with maintaining privacy. 
What Businesses Can Benefit From Thermal Imaging Cameras For Access Control?
Because so many different types of businesses can benefit from these cameras, it would be impossible to list them all in this article. However, some of the industries that are seeing an increase in the use of thermal imaging cameras for access control include:
Healthcare Facilities
Thermal imaging cameras are a powerful ally to the healthcare industry during COVID-19. Systems like ENS Security's Thermal Facial Recognition Terminal are specifically designed to screen individuals on three customizable criteria before access is allowed to restricted areas: an individual's temperature, whether they are wearing a mask, and their approved access level. If even one of these criteria is not met, access is denied.
In addition, using thermal imaging technology to screen visitors into the hospital can lessen the already heavy load that our Southern Colorado healthcare heroes are bearing by assisting the temperature screening of individuals entering the hospital.
Schools
Southern Colorado's education system is still recovering from the effects of COVID-19. Remote learning has proved to be a huge learning curve for many parents, and most families are happy to see their children go back to school and social activities. Even so, the health and safety of our children remain huge concerns for all parents.
One major advantage of using thermal imaging cameras in the education sector is that while they don't detect a person's internal temperature, they do measure the skin temperature. Imagine the advantage this technology can have in a school system that is already short-staffed! Temperature anomalies can notify school officials instantly that a child is potentially ill and they can immediately step in to treat the child or separate them from other students. 
Thermal cameras will save teachers time, and the cameras also assist with maintaining a normal schooling environment for children, while maintaining the privacy of underage students.
Small Businesses and Large Enterprises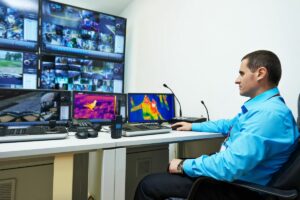 Small businesses, especially those in rural or somewhat remote locations, are in need of security that can alert them to incoming threats without being triggered by false alarms. 
Security being notified of a potentially dangerous target approaching will send them bolting to stop the threat. However, if this 'threat' was simply a bird or stray dog, security may needlessly leave their posts and waste time. 
Large enterprises that have a huge perimeter will likely have security guards patrolling the area, but the human eye can only see so much. Once it gets dark, a security guard's field of view decreases dramatically. Thermal imaging cameras can detect people whether they are walking slowly or crawling with the intention of not setting off security alarms.
Security guards are able to immediately see intruders with their body temperature instantly giving them away. Thermal cameras contain features like motion-detecting, loitering detection, and cross-line detection. 
Sneaking onto the premises will be next to impossible when security guards are able to immediately deploy team members directly to the intruder's location. 
System Links Can Defend Your Business
System Links takes pride in serving the Southern Colorado area with security camera and access control installation, in addition to servicing and upgrading existing CCTV security equipment. The System Links team provides technology and equipment from industry leaders like ENS, VizPin and others to protect your home or business. 
For high returns on your investment and fewer false alarms, ask us about thermal imaging cameras for access control systems. We provide free on-site consultations and quotes.   
Contact us today!
More From Our Southern Colorado Security Blog:
Gated Community Security Camera Surveillance Systems
The Benefits Of Moderns Access Control Systems
5 Things You Need To Know About VizPin Access Control Systems