In today's world, one of the smartest decisions you can make for the security of your Southern Colorado business is to invest in a premises access control system. If you are looking for a feature-rich, high-tech access control solution then Vizpin Access Control Systems is one of the best, most user-friendly and secure options available.
Thirty years ago, it seemed like the only businesses with access control systems were Fortune 100 companies, high-tech developers and manufacturers, and government installations. But since then, controlling who has access to your premises and data, and exactly when this access is granted, has become an essential aspect of nearly every business, no matter the size. 
With the plethora of options available, why should you choose to install a Vizpin Access Control System at your company's premises? Here are five core features Vizpin technology provides to secure your company premises. 
1. Vizpin Is Cloud-Based
With Vizpin Access Control Systems, security permissions do not need to be set up locally but are instead managed by the service provider via a remote server. All that is necessary on your (or your designated administrator's) part is a mobile connection or a web browser. That is it. Your administrator will be able to set up and manage permissions from anywhere, at any time, all through an app on their smartphone.
This cloud-based approach allows for your administrator to manage access to multiple buildings, handle complex security requirements, collaborate with other individuals, and eliminate the need for training a local operator, for both service and maintenance. 
2. Vizpin is Secure 
The reality is that security is becoming more of an issue all the time. Whether you are most concerned with hackers hijacking your data or compromising your system, or the safety and security of your employees and visitors, any good access control system has to be flexible enough to allow for customization, but also be configurable for maximum security and safety. Vizpin is just such a flexible and configurable access control system.
The Vizpin access control reader is mounted in a secure area, well away from potential burglars, and safe from weather elements. The system can be customized to use two-factor authentication (TFA) or even multi-factor authentication (MFA), so as to handle all logical security requirements. This feature also enables you to use end-to-end data encryption when it is necessary to transmit data to other locations.
3. Network Requirements with Vizpin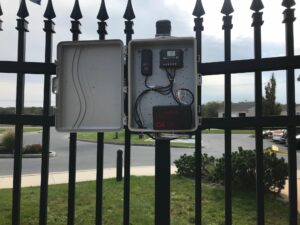 Many traditional access control systems use the same network as business-critical systems. This means a conventional system is wired into a central panel and requires a local network to support it. In addition to extensive wiring, an ISP, and a number of routers, an IT professional will likely need to oversee and implement the entire network.
Vizpin Access Control Systems, on the other hand, do not require any network installation,  which eliminates the possibility of your corporate network being compromised. You'll also enjoy the benefits of a less expensive installation, as well as no need for maintenance personnel or for IT specialists. Vizpin is therefore a self-contained, protected access control system.
You Might Like: The Benefits Of Modern Access Control Systems
4. Vizpin is User-Friendly
The ultramodern Vizpin Access Control System is easy to configure, use and manage. Because a Vizpin system eliminates the need for fobs, key cards, or physical badges, there is no need for extensive training of your administrator. The system is intuitive and very user-friendly and can be used easily right after installation. 
And, if instant access is needed at any time, your administrator can easily navigate the cloud-based access control software to make the necessary updates.
5. Scalability With Vizpin
Vizpin is one of the most easily scalable access control systems on the market, so regardless of the kind of growth your company goes through, Vizpin can mirror that growth.
For instance, if you need to add an additional secure area in your workplace, or if your company undergoes significant expansion, your Vizpin Access Control System will grow right along with the company. Expansion is a breeze, and the cost is very affordable.
System Links Colorado: Your Local Expert Vizpin Access Control Systems Retailer And Installer
With so many great features and cutting-edge technology, Vizpin Access Control Systems are becoming increasingly popular with Southern Colorado companies. At System Links Colorado, we are proud to be premier retail sales and installers of this awesome technology. Contact us today for more information and to request a free quote. 
More From Our Blog:
5 Things To Consider To Get The Best Small Business Security Camera System