One of the most frequently asked questions we receive at SystemLinks is whether security cameras are superior to doorbell camera systems. We can emphatically answer yes! However, you may think we are understandably biased, being a CCTV security camera and access control sales and installation company. So, this month we are sharing seven ways home security cameras are superior to doorbell cameras for keeping your home and family safe.
Customizable Field of View
One of the biggest reasons security cameras are superior to doorbell cameras is the ability to change the camera's field of view to capture more of what is going on around your property. Whereas doorbell cameras such as Ring have a fixed viewing range, security cameras are customizable to capture what you need where you need it.
Do you really need to capture video and receive notifications whenever your neighbor passes your home while walking their dog? Or are you concerned, as most homeowners are, with activities that actually occur on your property?
Better Resolution
Home security cameras typically come with higher resolution than video doorbells. The most common resolution for home security cameras in the market includes 2MP (1080p), 4MP (1440p), 5MP (1920p) and 8MP (4K/2160p).
Doorbell cameras currently max out at 1080p resolution, with some as low as 480p. A higher resolution generally means a sharper image. Home security cameras can capture more detailed footage, making it easier to identify people, objects and events.
Night Vision Capabilities
Most criminals prefer to act under cover of darkness. While doorbell cameras may have night vision, the capabilities are minimal compared to home security cameras.
For instance, most home security cameras have infrared sensors that allow them to see even in total darkness. The night vision range of home security cameras can be anywhere from 10 to 100 feet, depending on the model. Most doorbell cameras provide night vision up to 30 feet.
Additionally, home security cameras usually come with adjustable night vision settings, allowing you to customize the camera's performance, avoid light flares, and provide better security for you and your family.
Adaptive AI Detection
Motion detection is another area where security cameras are superior to doorbell cameras.
Imagine being in an important work meeting with your phone alerting you whenever a cat crosses your lawn. The word "distracting" does not even begin to describe interruptions.
However, modern security cameras are equipped with state-of-the-art technology that recognizes and learns to ignore the non-threatening movement. This is especially helpful on residential streets with heavy traffic, outdoor pets like cats or other everyday neighborhood activities.
Home security cameras can provide you with the comfort of viewing your entire property from an app on your smartphone, but with greater customization options and notifications.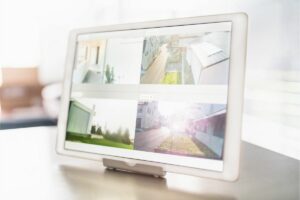 Security Cameras Can Provide Quality Plus Quantity
Like most things in life, when choosing between home security cameras installed by a professional and doorbell cameras installed by the average DIYer, you get what you pay for.
Security cameras are superior to doorbell cameras because of the quality of the equipment, available features, and the ease with which you can add additional cameras to your existing security plan.
Home Security Cameras Are Less Susceptible to Tampering
Another way home security cameras are superior to doorbell cameras is that they are less susceptible to tampering because of the equipment's options for placement, hard-wiring, and durability.
Related: Best Ways to Protect Your Home Security Camera from Hackers
On the other hand, doorbell cameras are relatively easy to tamper with because they are easy to access. Intruders can tamper with doorbell cameras by physically removing them or disconnecting the power source. They can also disable the camera by blocking its view or accessing its settings.
Additionally, criminals can hack your camera using your WiFi, tricking you into letting in a stranger by showing you a video of someone you know.
Ownership of Equipment and Videos
The final reason why security cameras are superior to doorbell cameras is ownership. With security cameras, you own the cameras, the DVR, and most importantly, the videos.
Most doorbell camera companies require a monthly or yearly subscription to record and keep video footage for later viewing. Even then, there is a time limit on how long you have to access the videos (typically around 60 days). You are out of luck if you need that data after those 60 days.
Conversely, by installing a CCTV system that sends video footage to your own DVR, you can choose how much or how little video data you want to keep and exactly how long you want to keep it. If you want to keep the recording of your spouse slipping on the ice to show at family gatherings 15 years from now, you can. The only limitation to how much video footage you can keep is the size of the expandable hard drive on your DVR.
You Might Like: Using Security Video as Legal Evidence: What You Need to Know
With System Links, Home Security Cameras Are More Affordable Than You Think
One of the main reasons many Southern Colorado homeowners choose doorbell cameras with DIY installation is that they think professionally-installed home security cameras are out of their budget.
At System Links, however, we believe that every homeowner, every Southern Colorado family, deserves to feel safe and secure in their home. We have camera packages that include installation at reasonable prices. And every installation we do comes with three years of free basic service calls, a warranty unprecedented in the security camera and access control industry.
Call today to schedule your free, in-home security consultation and quote. We look forward to working with you toward a more secure future!