When we answer the phone at SystemLinks, we often hear the question, "how much will an access control system cost me?" Many variables are involved with installing access control systems – the system itself and the number of doors or access points, for starters – but that doesn't mean your budget and options are unattainable.
The following is a summary of the average costs per door for some of the most popular types of access control systems:
Traditional, Physical Keys and Locks
Traditional lock and key solutions may be the most affordable solution for access control, but more and more Southern Colorado businesses are exploring other options. Why?
When an employee leaves the company, physical keys are often lost or forgotten, resulting in a substantial cost for rekeying locks and replacing keys. In such a situation, it is critical to maintain a secure environment and replace door locks or rekey locks.
For an experienced locksmith, cutting a new key should take less than two minutes, and replacement keys will vary in price from $2 for a simple key to $70 for a coded one. If you rekey your doors, you will spend between $500 and $2400 on them.
Changing the lock is more time-consuming and costly, and you will still need new keys. Furthermore, you'll have to pay even more if you need an emergency or after-hours service.
Keypad Access Control
On average, access control system costs for keypads range from $500 to over $1,500 per door. Keypad entry systems install quickly, but the wiring in your building will ultimately determine how long it takes. In most cases, the installation of hardware on the exterior of the building is required.
One drawback to keypad-enabled access control is that hacking the keypad is relatively easy for an experienced intruder. In fact, even a novice can hack a keypad by watching videos on YouTube.
Additionally, while changing the code on a keypad is relatively easy, the system administrator must be physically present. Another hidden cost with keypads is that when you change the code, everyone accessing the building must remember it, which often results in lockouts and support calls.
Key Card and Key Fob Access Control System Cost
Access control system cost for key cards and key fob entry ranges from $1,000 to $3,000 per door. In addition to the hard costs of readers, panels, wiring networks, and training, $3 to $10 is added per card or $5 to $50 per key fob.
Key cards and fobs generally require more installation time than keypad entry systems but are quicker to install than biometric systems. You must install some hardware outside the building for this entry system to work. Because getting a card or key fob to the user requires an on-site presence (or mailing them out), adding and removing users will require physical contact with the user.
If a network is available on-site, remote management is available for many entry systems. However, to manage the system, many installers charge a service fee from $10 to $100 per door per month. And to have the latest features, you will need to upgrade your software annually.
When a key card or key fob is lost, the property manager must remove the lost fob and manually add a new one to the system. The time it takes the property manager to administer the system is an estimated 15 minutes per tenant per year. Managing a system with 500 employees or residents every year would cost an additional $2,500.
Intercom (Buzzer) Access Control Systems
There are various price points when it comes to intercom systems for access control. A basic buzzer system is typically $750 per door, and integrated video storage and access control system costs can reach up to $10,000 per door.
The installation will take at least 4 hours per intercom, depending on how complex the wiring is in your building, and an administrator must actively manage the system. Adding or deleting a new user can take as much as 15 minutes, and the more sophisticated systems might come with hefty monthly support fees.
Biometric Access Control Systems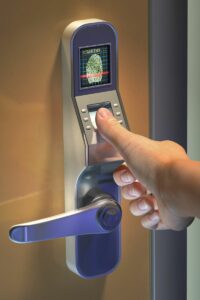 Rather than using physical key cards, key fobs, keypads, or traditional locks and keys for access control, many businesses invest in biometric systems that authenticate users by scanning their fingerprints, handprints, hand geometry, iris patterns, and facial features.
Because of the increased security available, biometric access control systems cost one of the most expensive out there, at $2,500 to $10,000 per door. In addition to your electronic locking hardware, you must install a biometric scanner, a network connection, and computer hardware and software, all of which increase the access control system cost.
Installation of biometric hardware should take about 1 to 2 hours per door, but setting up the software and connecting it to the network may take several hours. As with most other technologies, hardware will need to be installed on the exterior of the building.
While biometric access control is one of the most secure systems available, they have drawbacks. The systems are vulnerable to false positives (allowing someone in who should not be) or false negatives (keeping someone out who should be allowed in).
Smartphone-Enabled Access Control
One of the most cost-efficient access control systems, and one that we are excited about at System Links Colorado, is smartphone-enabled access control.
The cost of installing smartphone access control systems depends on the manufacturer and the type of access. An existing electronic door lock can be wired to a smartphone reader or a commercial smart lock.
If your smartphone reader uses NFC, outdoor installation may be necessary. If it uses WiFi, ZigBee, or Z Wave, you will require the support of a large-scale network. The cost for these types of smartphone-enabled access control ranges from around $500 per door to over $10,000,
However, emerging technology from manufacturers like VIZPin, which uses Bluetooth, allows Southern Colorado businesses to avoid a significant financial outlay and retain high levels of control of their building access and assets.
VIZpin's Bluetooth access door controller with an integrated Bluetooth reader can be installed in seconds and does not require any hardware installation outside the structure. The prices start at $299 per door.
That is an access control system cost most businesses can live with!
The Best Way to Know How Much Installing An Access Control System Costs is to Request a Free Quote
In this article, we have provided rough estimates of per-door costs for access control systems. However, the best way to find out your cost and ensure you select the proper access control system installation for your Southern Colorado business is to request a free quote from System Links.
We will start by scheduling a free, on-site security assessment, where we learn about your business, your assets, and your security needs. Then, we will prepare a custom quote with the best options. We stand by our quotes, so you never need to worry about hidden costs or fees.
Get started today by speaking with one of our security and service advisors.