Why Prioritize Employee Safety Outside Your Four Walls
If you are a Southern Colorado business wanting to retain your valuable employees, there is good reason for you to address parking lot safety sooner than later. You have spent the last two years prioritizing their physical and mental health during the pandemic. Now that employees are transitioning back into the workplace, their physical safety needs to be a priority. And that starts from the moment they enter your parking lot.
Criminals flock to parking lots because they are secluded and offer places to hide. This makes them the ideal location for car theft (including carjacking), vandalism, and assault. Unfortunately, many criminals assume that no one is monitoring these areas-which allows them to go undetected. What steps can you take to ensure your employees' parking lot safety and security?
Parking Lot Safety Tips
Promote Safety in Numbers
Encourage your employees to leave in small groups or pairs, especially after the sun has gone down, and be aware of their surroundings. If they observe what seems to be suspicious behavior, have them report the activity immediately. Managers who get such reports should take appropriate steps to ensure the safety of all employees.
Install Adequate Parking Lot Lighting
There is a good reason why so many crimes occur at night. Criminals find it easier to strike under cover of darkness. Eliminate the temptation and increase your parking lot safety by keeping your lot well lit at all times.
In addition, increasing the lighting in your business's parking lot can prevent accidents. With the many affordable options for outdoor lighting, even companies on a tight budget can take steps to illuminate their parking lot and improve employee safety.
Deter Crime with Security Fencing
Having a professionally installed security fence around the perimeter of your parking lot can deter crime. If the fence is hard to climb or requires effort to access, potential wrongdoers will likely feel that the effort needed is not worth their while and will look elsewhere for an easier target.
Security Guard Patrols
Security guards can provide an effective deterrent to potential thieves and other miscreants. If you can afford this service, make sure the patrol path is randomly selected. It does not take even an inexperienced thief long to detect patrol patterns, opening up opportunities for them to do their dirty work.
You Might Like: Benefits of Security Camera Systems for Churches
Install Security Cameras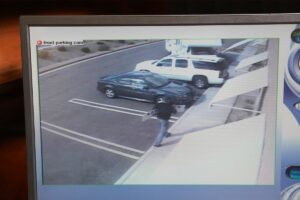 All of the above tips combine nicely with installing surveillance cameras in your parking lot.
Ensuring a security camera system is in place and maintained is one of the most productive and cost-effective ways to reduce crime and deter loitering in any parking lot. These weather-proof and tamper-proof cameras will keep an eye on the area around your building and in the parking lot to prevent break-ins, vandalism or burglary.
An experienced security camera installer can increase parking lot safety by making sure the cameras are adjusted correctly and are recording valuable footage that can be used to prosecute vandals, thieves, and attackers to the fullest extent of the law.
The options in facial and license plate recognition, high-resolution video recording, and night vision can assure your employees that you take parking lot safety seriously. They will have the comfort that they will have access to the needed proof to gain compensation if anything happens to their valuables or their person while they are at work.
An extra bonus of parking lot surveillance systems is that the cameras can be pointed at the entrances and windows of your building, increasing the overall security of your property and valuable assets in your building.
Put Up Signs
If you are protecting your parking lot with video surveillance, advertise that fact! Put up multiple signs letting people know that they are being recorded. When criminals know there will be video evidence of their activities, they are less likely to take the risk of getting caught.
Take Steps Today to Ensure Parking Lot Safety For Your Valuable Employees
Employees are the most valuable asset to your Colorado business. Show your staff that you take their safety and security seriously while in the office with access control systems and while outside with these tips for parking lot safety. Being proactive instead of reactive will give your employees (and you) peace of mind.
Click here to arrange for your free on-site consultation and quote for parking lot surveillance systems.