If you are venturing into the world of CCTV for the first time, you likely have many questions – and our guide to security cameras can answer those questions! In this article, we'll take you through some of the most frequently asked questions about security camera installation so you can make an informed decision.
Why Do I Need Security Cameras?
The website Neighborhood Scout reports that one out of every 29 Colorado Springs residents will fall victim to property crimes. As these statistics continue to increase, Southern Colorado residents and business owners are seeking video surveillance solutions as the first line of defense against outside threats such as theft and other personal crimes.
Which Security Camera System is Right for Me?
This is an excellent question with many potential answers. With so many different camera types on the market, each with their own features, pros, and cons, you may be unsure which type is best for your home or business.
The first step to deciding which system is right for you or your business is determining your needs. For instance: Are you concerned about intruders to your home or business? Then security camera placement by entrances is likely your top priority. Do you need to monitor activity in your storefront to prevent theft? Then placing security cameras that record events on your showroom floor will be most helpful.
Guide to Security Camera Types
Security camera systems come in three variations:
Analog Cameras – These cameras use a coaxial cable to connect to a digital video recorder (DVR). The cable transmits power and data, making it efficient for long distances and outdoor use. In terms of quality, analog cameras are generally lower in resolution than other security camera types.
IP Cameras – Sometimes called "smart cameras," internet protocol (or IP for short) cameras use a network connection to stream footage to your computer or smartphone. These cameras are great options for homeowners and business owners who want to monitor their property wherever they may be.
IP cameras connect to a local network (or a router, which allows multiple cameras on one network). These cameras also can be linked to a cloud-based recording system or a traditional DVR. While IP cameras are more expensive than analog ones, they do not have the same distance limitations as analog cameras, making them a popular choice.
Video Cameras – Unlike the security cameras already mentioned, video cameras do not record footage. Instead, they send a live feed to your computer or smartphone. With video cameras, you'll see what's happening in real-time rather than reviewing footage after the fact.
How Many Cameras Should I Install?
While there is no definitive guide to security camera numbers, you should consider the layout of your home or building, the viewing range of the cameras you choose, and the level of security you want to achieve.
A novice in the field of security camera systems does not have to guess about the number (and placement) of cameras. A Colorado Springs security camera installer can determine needs during a free, on-site home or business security assessment.
Where Should I Place Security Cameras?
Again, your guide to security camera placement will depend on your specific needs. However, general guidelines to follow are to focus on places most likely to appeal to criminals.
For instance, homeowners typically choose to install security cameras to monitor traffic outside the home, at doors and windows, and in rooms that contain valuables.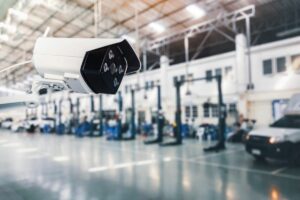 More Details: Best Places to Install Home Security Cameras
In contrast, we recommend businesses have at least one camera in every public area, including entrances, loading docks, and parking lots.
Of course, any guide to security cameras for businesses would be incomplete without reference to access control. By integrating security camera features with the installation of access control systems, Southern Colorado businesses can more conveniently protect employees, visitors, and their valuable assets.
What's the Difference Between WiFi and Wired Security Cameras?
The main difference between WiFi and wired security cameras is the method of data transmission. WiFi cameras transmit data over WiFi networks, while wired cameras plug directly into your router or modem.
For a complete analysis of the pros and cons of each, check out our article Wired vs. Wireless Security Camera Systems.
System Links: Colorado Springs Ultimate Guide to Security Camera Installation
If you are new to the world of CCTV and access control, having an experienced guide can make all the difference. A guide can help you stay within your budget while ensuring everything is installed and working correctly. A guide will know best where to install each camera, how many are needed, and how high to place them. They will also understand how to integrate your cameras with your WiFi network, DVR, and other equipment.
System Links is the ultimate guide for security systems in Colorado Springs. Our knowledge, expertise, and unparalleled customer service combine to give you the best security system sales and installation experience.
Contact us today to schedule your free, on-site security assessment. We look forward to securing your world.