This post is an unsolicited customer review of a home security camera installation in Colorado Springs by an actual customer of System Links.
Home Security Camera Installation in Colorado Springs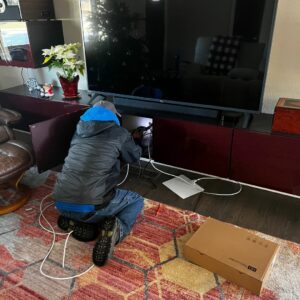 When it comes to securing your home, there's no such thing as being too careful. That's why I decided to invest in video security cameras for the exterior of my home in Rockrimmon, Colorado Springs. After doing some research, I settled on System Links as the installation company and was extremely pleased with the entire experience.
First and foremost, the owner and lead installer of System Links, Rich Shaw, was a pleasure to work with. He was professional, knowledgeable, and provided excellent advice on where to place the cameras for maximum coverage. He took the time to walk me through the entire process and made sure I understood how to operate the cameras and DVR once the installation was complete.
Placement of the DVR was a major topic.  I wanted to have the DVR linked to my large screen TV in the living room.  Rich explained the advantages and disadvantages of doing this in my home, and that sage advice was very helpful. Many people like to have a separate monitor that can be on 24 hours to easily monitor the exterior of the home.
Rich setup my iPhone, my wife's iPhone and our family iPad to be able to monitor all 4 cameras.  This actually made the location of the DVR near a monitor a mute point for us, as we use our mobile devices 95% of the time to watch what is going on outside.
Quality Services that Stood Out
The security camera installation itself was done in a very professional manner. Rich and his team were efficient and respectful of my property, ensuring that everything was installed properly and securely. They even took the time to clean up after themselves once the job was done, leaving my property in the same condition they found it.
One of the things that impressed me the most about System Links was their attention to detail. Rich made sure to test each camera individually to ensure that they were functioning properly and providing the coverage I needed. He also went above and beyond by checking the positioning of the cameras at different times of day to make sure they were capturing everything necessary.
Security Camera Resolution and Cost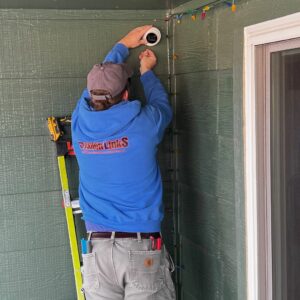 I was curious about camera resolution quality.  Rich took the time to explain in plain language on security camera resolution impacts the ability to zoom in on video.  He explained what were the most common resolutions for basic home exterior monitoring. He further explained that higher resolution cameras cost more and require more expensive DVRs.
Automated Alerts and False Alarms
I was also curious about having the video security system alert me when humans were in my front yard, but not alert me when deer came strolling though.  As a security camera expert, Rich explained that cameras can distinguish between humans and animals through advanced software algorithms that analyze the shape and movement of objects in the video feed.
For example, humans tend to have a more upright posture and move in a more deliberate and linear way, while animals tend to move more erratically and have a different body shape. Additionally, some cameras may use infrared sensors to detect body heat, which can also help differentiate between humans and animals. By using these advanced technologies, security cameras can accurately identify and track human activity while minimizing false alarms triggered by animals or other non-human objects.
The key takeaway from his explanation was that the ability to detect humans had to exist in the camera.  So, if I wanted that type of feature I would need to buy expensive, high-end cameras with advanced technology, including artificial intelligence.
I didn't really want to spend thousands of dollars on installation of a home surveillance system, so I went a more affordable 4-camera system that feature awesome recording quality and over 7 days of video storage.
No Walking in My Attic Required for Security Camera Wiring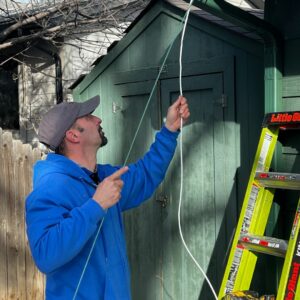 Rich has a cool tool for fishing wires from the external corners of my home thru the attic to the central wiring hub located above my garage.  This tool make it fast and simple to put the cameras exactly where I wanted them.
But maybe the best thing about the cool wired fishing tool was that nobody had to walk about in my attic, which is full of blown in insulation which I did not want people walk on.
My Thoughts 4 Months after Installation
Since the installation, I've been extremely happy with the performance of the cameras. They provide HD quality video and have excellent night vision capabilities, making it easy to monitor my property even in low light conditions. The DVR also works flawlessly, allowing me to easily review footage if necessary.
But perhaps the most valuable aspect of the video security cameras has been the peace of mind they've provided. Knowing that my home is being monitored 24/7 has allowed me to relax and feel more secure in my own space. I can check in on my property remotely through my smartphone, which is an added convenience.
Overall, I couldn't be happier with my experience with System Links, Rich Shaw and his awesome office support staff. The installation was done in a professional and efficient manner, and the performance of the cameras has exceeded my expectations. If you're looking for a reliable and trustworthy company to install video security cameras, I highly recommend System Links.