Security cameras are popular for businesses up and down the front range, but did you know there are good reasons you should install a surveillance camera for your home?
When people think of security cameras, they typically picture cameras mounted outdoors or indoors to monitor business or retail spaces. But home security cameras offer many benefits for personal usage as well. For instance, if you're going out of town, you may want to monitor activities at your house from your smartphone. Do you want to keep an eye on your kids while working in the basement? Or what if you want to ensure nothing creepy is happening in your home when you aren't there? For all these reasons and more installing a surveillance camera for your home may be the right decision. With the help of our insight, this article will explore some reasons why you might find a surveillance camera useful at home – and how they can come in handy.
Protect the things you care about
If you own expensive items, the last thing you want to do is leave them unprotected. If someone breaks into your home, they could steal your valuables, break or destroy them, or even set your house on fire – destroying your items and putting your safety at risk. A surveillance camera for your home can help you protect your valuables. You can set up a camera in a location where you can easily monitor your expensive goods, such as a hallway adjacent to your living room.
Monitor who approaches your home
If you live near your neighbors or have a lot of foot traffic in your neighborhood, you may want surveillance cameras to help you keep an eye on who approaches your home. Many modern security cameras have motion sensors that automatically record when they detect motion nearby. This way, you don't have to actively monitor the cameras to see who comes and goes.
Deter possible intruders
Some burglars are just looking for easy targets, so installing a surveillance camera for your home can result in thieves and vandals avoiding your house altogether. For most burglars, the risk of getting caught is not worth the possible gain of breaking into your property.
In addition, surveillance cameras can provide extra security for your Colorado Springs Neighborhood Watch Program. Burglars that know a neighborhood has not only residents keeping an eye out for each other but can also provide security video as legal evidence of suspicious activities are less likely to target homes in that area.
Have peace of mind while you're away
Now that the COVID-19 pandemic is largely at bay in Colorado, many people are returning to travel. Whether you are gone for work or pleasure, monitoring your home from afar via smartphone or computer can ease worries about break-ins, water pipes bursting, or even package delivery while you are away.
For additional information about protecting your home while you and your family are away on vacation, read our article, Four Powerful Ways to Improve Security While on Vacation.
Make sure your kids arrive home safely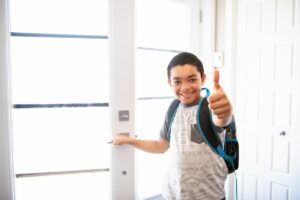 As far back as 1944, the term "latch-key kids" was coined to describe the increasing number of children who return from school to an empty home because their parents or guardians are still at work.
If your home circumstances dictate that your children are at home at times by themselves, installing a surveillance camera for your home provides added security for them and peace of mind for you. Seeing your children open the front door right on schedule is priceless when you aren't there to welcome them in person. And, if they are not home on time, you can quickly take steps to contact them.
Many surveillance systems come with two-way audio, meaning you can communicate with your kids or pets when you are not home, and many systems are equipped with night vision, so you can keep track of your kids or pets even if they are in a dark room.
Wrapping up
If any of the above situations apply to you, it may be a good idea to invest in a surveillance camera for your home. But with the many options out there, how do you know the best option for your situation and budget? And where is the best location to install a surveillance camera for your home?
The answer to these questions and many more can be easily found by contacting an experienced Colorado Springs home security camera installer. At System Links Colorado, we will perform a home security assessment and provide you with a custom quote based on our recommendations. The assessment and the quote are both free of charge.
Contact us today to see why we are Colorado Springs' most trusted source for surveillance camera installation for home use.