Business access control systems are an essential component of any modern security plan, no matter the company's size. These systems help Colorado business owners to prevent unauthorized access to specific areas where sensitive data and valuable assets are kept and ensure employee safety.
And while selecting the right access control system for your business is crucial to your security plan, deciding where exactly to install these systems to maximize their effectiveness is just as vital. This month our experienced access control team shares their top six recommendations for installation locations.
Business Access Control Should Start the Moment You Reach Your Property
The first two locations our team recommends installing business access control systems should be no surprise. The best place to start protecting your assets is your property line. This means placing security cameras and access control systems in your parking lot and at your main entrance (and any side entrances, for that matter).
Parking Lots
Parking lots are often a weak point in business security. However, they can be a prime location for theft, vandalism, and other criminal activity. Installing an access control system in parking lots can help to deter criminals and ensure that only authorized vehicles are allowed on the premises.
Main Entrance
The main entrance is the most obvious location for an access control system. As the first point of entry for employees, visitors, and customers, installing a system here can help prevent unauthorized access, theft, and other security breaches.
Elevators
Elevators are another often-overlooked location for access control systems. Installing an access control system in the elevator ensures that only authorized personnel can access certain floors. This is particularly important for commercial property managers with multiple tenants in the same building.
Physical Business Access Control Systems Contribute to Cybersecurity
If you do business on the web in any form (and who doesn't in today's age?), chances are you are familiar with cybercrime and cybersecurity. Along with actively monitoring your network security, a physical business access control system can protect your business from falling victim to a malicious cyber attack. Thus, our team highly recommends installing a system in the following areas: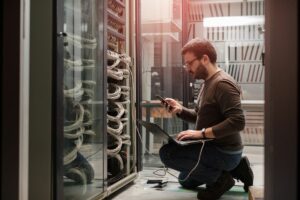 Server Rooms
Server rooms contain critical data and equipment that are essential to the daily operations of a business. Access control systems prevent unauthorized access to these areas, protecting sensitive information and ensuring that equipment is only available to IT personnel and authorized employees.
Research and Development Areas
Research and development areas often contain valuable intellectual property, such as patents, trade secrets, and other sensitive or proprietary information. Access control systems can prevent unauthorized access and protect these valuable assets.
Executive Offices
Executive offices often contain sensitive information, such as financial records, contracts, and strategic plans essential to the success of your business. That is why our team recommends including offices in your business access control system – to prevent unauthorized access and protect confidential information.
In addition to these locations, Colorado business owners should also consider installing access control systems in other sensitive areas, such as cash registers, inventory rooms, and other areas where valuable assets are stored.
The Role of Security Cameras
One of the best ways to maximize the effectiveness of your business access control system is by supplementing the system with CCTV security cameras. By pairing these two security methods, you have the assurance that unauthorized individuals are not only denied access but that you have the needed legal evidence to prosecute trespassers.
Related: Using Security Video as Legal Evidence: What You Need to Know
Final Considerations Before Purchasing and Installing Business Access Control Systems
With the many options available for access control, getting the right system for your specific business needs is vital. Some systems are designed for small businesses, while others are better suited for larger corporations. Factors to consider include the following:
number of employees
size of the building
level of security required
Additionally, you should only trust the security of your business to a reputable access control installation company in Southern Colorado. that can provide installation, training, and ongoing support. Look for a company with experience working with Colorado businesses and can provide references from satisfied customers.
System Links Colorado: Local, Trusted Access Control and Security Camera Installation
At System Links Colorado, we know that your business is important to you, just as ours is to us. We take pride in giving Southern Colorado companies affordable access control and security camera sales and installation options that keep everything running smoothly, whether you are on-site, sitting in your living room, or monitoring your business remotely.
Our services for local companies start with our free on-site security evaluation. We will walk your site with you, discuss the areas that are common targets for thieves and trespassers, and learn more about your business. Then we will create a free quote based on your needs, not ours.
Ready to get started? Schedule your free security evaluation and quote today.