Porch pirates, just like their namesakes, want to steal your booty – that is, the packages and other valuables on your doorstep. This type of thievery is becoming a common concern in Colorado Springs and nationwide, causing frustration and financial loss for homeowners.
Fortunately, there are proven methods to deter porch pirates and keep your packages safe. This month, we will discuss ten ways to protect your deliveries and prevent theft.
Utilize Alternative Delivery Locations
The most proven way to ensure you do not fall victim to porch pirates is to remove the temptation entirely. And how can you do that? By not scheduling deliveries to your home.
The good news for Colorado Springs homeowners is that this does not mean canceling your dog's Bark Box subscription but rather that you take advantage of alternative delivery methods to receive your goods. Here are four ways to do this:
Package Locker Services
Some retailers are attacking the issue of porch pirates head-on by offering to deliver your items to a package locker service. These unstaffed lockers are designed specifically for package delivery and are a secure way to receive your packages. Simply select this option before placing your order, and a list of convenient locker locations will pop up. Choose the most convenient pickup location and receive a text message or email with details on retrieving your package from the locker.
While this is not an option for some oversized packages, the flexibility and security are worth a short drive to the pickup location for many Colorado Springs homeowners.
In-Store or Curbside Pickup
Many retailers with physical locations in Colorado Springs and surrounding areas now offer the option to purchase goods online and pick them up in-store or curbside. In cases where the item is in stock locally, you can schedule a pickup in as little as a couple of hours. And when the shipment is necessary, almost all retailers will waive shipment costs for in-store or curbside pickup. You may want to pursue these options if you are concerned about porch thieves in your Southern Colorado neighborhood.
Hold Packages at Shipment Hub
Delivery companies like FedEx and UPS have a local hub that receives all shipments, then sorts and places them on trucks for delivery. However, you can select to pick up your package directly from that hub. Bring the tracking number and your ID, and you can leave with your items.
Schedule Deliveries to Your Business
Most of us have an office or other place of business where someone is always present during working hours. Scheduling your deliveries to your business will deter porch pirates because there will be nothing on your doorstep to steal.
You Might Like: Customer Review: Home Security Camera Installation in Colorado Springs
How To Deter Porch Pirates When Alternative Delivery Locations Are Not Possible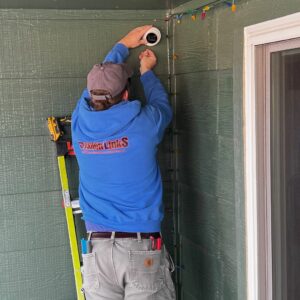 While the above suggestions may be ideal, the truth is that for many busy Colorado Springs homeowners, the inconvenience of going elsewhere to receive our packages negates the great prices we receive by shopping online. So if you want the convenience of home delivery, here are seven ways to deter porch pirates from targeting your doorstep.
Schedule Delivery While You Are Home
If you are part of the increasing population who work at home (at least part of the time), the odds are that there is one day each week when you are home for the majority of the day. Use this as your package-delivery day – be strategic with placing your orders, and you can ensure you are home to receive your package.
TIP: Amazon Prime members can select a specific day of the week as their "Amazon Day Delivery" and even provide digital credits for utilizing the service.
Require Signature Confirmation
Another way to protect your packages is to require a signature confirmation upon delivery. This is an especially great option for valuable or sensitive packages you do not want to risk losing.
Get to Know Your Neighbors
Establishing good terms with your neighbors means they are more likely to watch for suspicious activity around your home. They can also help you retrieve your packages if you are away.
Building a sense of community where we all look out for one another can go a long way to deter porch pirates.
Install a Package Delivery Box
Installing a permanent package delivery box on your porch may be an effective way to prevent porch pirates since packages are not easily visible from the street. If they cannot see a package, they are less likely to approach your front door looking for one.
For extra security, invest in a tamper-proof package delivery box or locker. Much like a FedEx or UPS drop box, carriers can deposit a package through a drawer which then drops the package into a secure compartment for retrieval by the homeowner.
Utilize Motion-Activated Lighting
Motion-activated lights are an excellent investment for deterring porch pirates. When motion is detected, the lights illuminate your porch and doorstep. Porch pirates are less likely to target a well-lit home, and motion-activated lights are especially effective when coupled with our last tip, installing home security cameras.
The Power of Home Security Cameras to Deter Porch Pirates
Finally, installing home security cameras is an excellent way to deter porch pirates. Security cameras will capture any suspicious activity around your home, and they can provide valuable legal evidence if theft occurs.
Because security cameras are typically installed in a visible location but outside of the reach of most thieves, they are virtually tamper-proof. And studies consistently show that advertising that you use security cameras can deter criminals from targeting your home.
For additional information on the advantages of security cameras over their competitors, visit our blog article 7 Ways Home Security Cameras are Superior to Doorbell Cameras.
Conclusion: Deter Porch Pirates with Cameras from System Links
From removing all temptation for crooks by choosing alternative delivery locations to installing motion-activated lights and home security cameras, there are steps you can take to make your house less of a target for porch pirates.
System Links is Southern Colorado's trusted security camera and access control solutions provider with a 5-star rating on Google. Contact us today for your free on-site security assessment and quote.